Home Front Elevation Design Types
Everyone wants to build or buy a home once in life in DHA Lahore, and construction companies in DHA Lahore play a vital role in your home construction. Once we decide to build our dream home the very first thing to finalize the home front elevation design. The front elevation design is the most important as it defines what the home will look like at first glance. So, before finalizing the front elevation design it is necessary to develop a house front elevation design that aligns with your ideas.
Below we shortlisted some front elevation design types which can give you an idea that which front elevation design type is the best for your home.
Contemporary Style:
The contemporary style of the front elevation is quite popular today. With its bold geometry and asymmetrical features, this style makes a very strong statement. The contemporary style embraces beauty, style, and practicality. The contemporary front elevation design also borrows elements from different styles and is quite flexible.
Modern Style:
We are sometimes confused between contemporary and modern style elevations. But contemporary and modern design types are different. People have the perception that the modern home is the once where the latest trends and technology is applied. This is not true.
The main feature and characteristic of the modern home is its balance with the ecosystem. Modern homes usually embrace the concept of minimalism they are usually simple and elegant in appearance.
The most prominent and useful characteristic of modern homes is its utilization of natural light. Large windows and beautiful open spaces in modern homes allow such utilization of natural light.
European Style:
People often dismiss off European style architecture because the majority of the people assume that European style is only well-suited for Europe. This is completely not true. It is possible to adopt this European style architect around the globe.
European-style houses usually use a combination of two materials such as stone or stucco, bricks, or siding.
A typical European-style house may be single or two stories and is quite large. Large doors, windows, arches, and arched entryways are prominent features of a European-style house.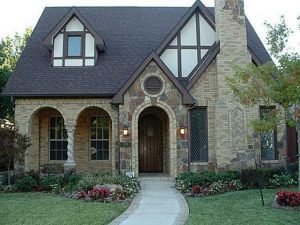 Combinations:
Creativity has no limits. It is not necessary that you select your home front elevation design from above mention styles. If you love to mix and match you could combine different beautiful elements and styles together to make your dream home. During the selection of combinations make sure that every element fits in with the other.
Combinations of styles applicable to all styles or elevation. Let's start from roof type, you may choose a sloping roof, flat roof, or terrace. When we discuss house elevation design the options are many. But before making a final decision it is important to consider all options